This month PlayStation Plus members will get DriveClub, the PlayStation Plus edition, which will consist of access to 11 tracks, 10 cars and all the game modes. Now if you like what you get you can always upgrade to the retail version of the game for $49.99. This month you'll be getting Dust: An Elysian Tail where you can play as a mysterious warrior, Dust, in this action-packed journey that will take you from peaceful glades to snowy mountaintops and beyond. Spelunky a journey filled with monsters, traps, and treasure, which can be played solo or bring up to three friends to join you in cooperative play or frantic deathmatch. Dungeons & Dragons: Chronicles of Mystara which are two arcade classic Tower of Doom and Shadow over Mystara. These and more will be available, free, for PlayStation Plus Members starting October 7th.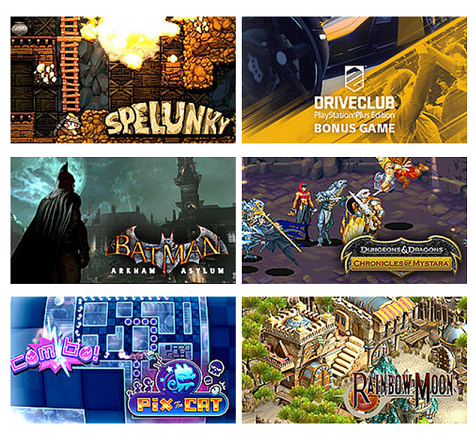 Titles available this month are: 
Dust: An Elysian Tail (PS4)
Spelunky (PS4 – Cross-Buy)

DriveClub PlayStation Plus Edition (PS4)

Batman: Arkham Asylum (PS3)
Dungeons & Dragons: Chronicles of Mystara (PS3)
Pix the Cat (PS4/PS Vita)
Rainbow Moon (PS3/PS Vita)
Stay Connected. Like us on Facebook!