As we all know Uncharted 4: A Thief's End has been in the works for quite a while now. With the last Uncharted done beautifully we wondered what could they do to top it off. With the release of next gen console, like the PS4, late last year we are pretty sure Naughty Dog will do us justice with the new installment of Uncharted.  Our first look at the redesigned Drake was back in June of this year in a teaser trailer.
Check out the teaser trailer back from E3 2014 below: 
---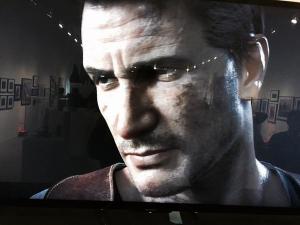 Recently, many have seen the release of the twitter image posted by Margenau with the caption "Drake looking next gen as f*ck at #ND30 celebration!". The picture was taken in The Gallery Nucleus found in Alhambra, California. The Naughty Dog 30th anniversary exhibit premiered on September 27 and will continue to run till October 12. Now we can't be certain if this will be the graphics of the in game content or simply a cut scene but we know we can expect something great from Uncharted 4 which is said to release sometime next year.
Stay Connected.  Like us on Facebook!