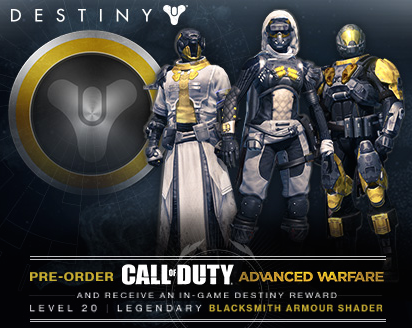 Call of Duty gamers, we have good news for you! You can bag an in-game reward for Bungie's new game, Destiny. A level 20 legendary blacksmith Armour Shader" which means that shiny gold, gunmetal grey and metallic silver armor can be yours.  You can receive your new gear from the postmaster vendor found at the Tower, then simply apply it via your inventory screen.
All you have to do is pre-order Call of Duty: Advanced Warfare on PlayStation or Xbox (Details Below)
The offer was launched at GAME UK on "2nd September and runs until 21st September". It's also available in North America at Gamestop.
Stay Connected.  Like us on Facebook!