I'm a gamer and want success for all consoles, only if their companies put out effort to support them, so I am also a fan of the Xbox. This issue here is not the Xbox as it's a powerful console and can provide experiences that captivate players. The issue is how Microsoft is handling the console, more so as of late. Xbox fans have been waiting for the Xbox reveal ever since Sony's PS4 came storming into the media in February. They were waiting, faith fully intact that Microsoft will deliver and they can have an arsenal of comebacks to set fire on Sony Playstation gamers, but ever since the announcement of the Xbox One, it seems that many are jumping ship to the Playstation family, however, those left still defended the Xbox One. As of this moment I'm trying to put together what Microsoft is planning?
The Xbox One was revealed and the main focus was entertainment, but this is ok because it was a part of a two step process and E3 would be the stage to reveal the games that would put a smile on Xbox fan's faces.Alright, but Microsoft can you answer the many but similar questions that media and gamers have been asking? It seems like Microsoft showed the console and when questions came up they just went around them one way or another. Phil Spencer's interview with Edge is a good example, he tried promoting how beneficial it would be to have games locked to you because then you'll be able to take games everywhere you go. When asked,
What happens if players want to lend a game to a friend?
He replied with,
"I think the whole idea of a secondary market is important and it'll be important in the next generation and we've designed [Xbox One] with that in mind from the beginning. We think there are a lot of advantages of having your content assigned to you digitally – we did that on 360 with cloud-saved games – and we want to do that with content."
"We understand there are implications to secondary; just know that we recognise the importance of that market and we've designed with that in mind from the beginning. We'll share more details as we get further along the road."
The question was not really answered but rather was avoided, it was not the end of this type of manner from Microsoft regarding the Xbox One. Many interviews were left with the same confusion as the one from Edge. Jumping to more recent events, Microsoft seem to have cancelled their post E3 conference roundtable with the media, which is when the media will be given the opportunity to have their questions answered.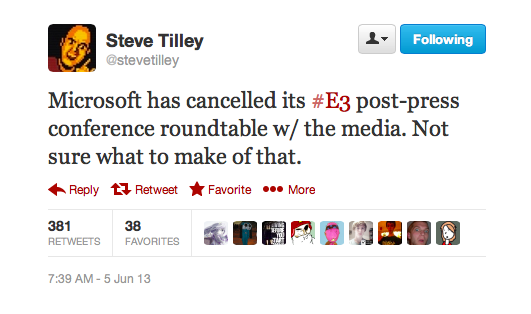 The roundtable is not the only way to get answers from Microsoft at E3, unfortunately they are shutting that down as well. They began cancelling one-to-one interviews with Microsoft execs.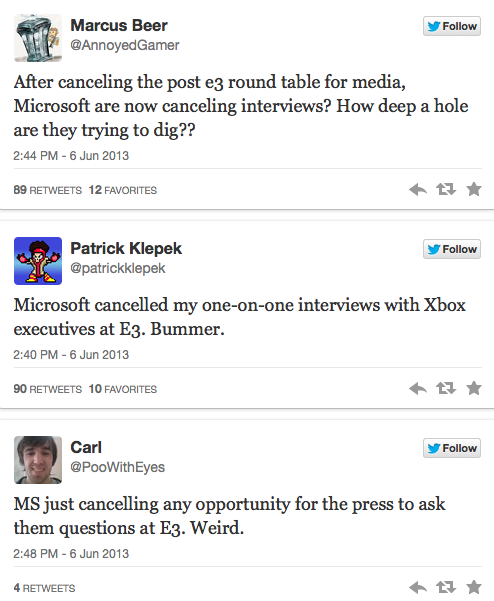 (Gameranx)
Now, I hope you realize my confusion and you probably were in the same state even before this article. I'm trying to put everything together and make sense of it but I'm having trouble. The roundtable and one-to-one interviews could have greatly assisted them, if handled well. The more they avoid all the questions the more gamers will likely not purchase their console. What does Microsoft think is going to happen? They'll be able to avoid all of questions until launch? Seems to be the way it's going from what has happened up to this point.
I know they want to appeal to many other markets but they need to remember, and I have said this before,gamers are at the core of their fan base. They need to please the gamers and part of it is answering our questions. How will the used games system work exactly? Can I lend a game to my friend? What happens if I don't meet the 24 hour online check? How much will Kinect record and what is done with the data? These are some questions I have and if they've been answered, my apologies.
Microsoft has a powerful console set to unleash later this year, I just wish they would handle it with better care than what has been the case thus far.